About the Province - Zhejiang
Wuzhen Town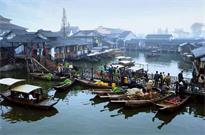 About 17 km north of Tongxiang City,Wuzhen Town is aliving fossil of the ancient Oriental civilization because of profound historyand culture.Tousists will find Wuzhen like a 6,000-year-old folklorepainting,with dark-awninged boats that keep going back and forth among narrowwater lanes and passing various types of stone arched vridges,the grayish-greenflagstone roads,the grayish-black civilian residences on both sides of therivers,the meticulously carved corridor,eaves,windows and doors,theancient-style dyehouses and the houses for producing distillers' grains,and thetime-honored stage where the Flower Drum Opera and leather-silhouette show areput on.This peaceful and quiet town is a primitive dreamland of humanbeings.Wuzhen,which once gave birth to 64 successful candidates in the highestimperial examinations,and 161 successful candidates in the imperialexaminations at the provincial level,still retains the simple and unadornedfolk customs and lifestyle today.
Longjiang Tea Garden
Situated in the famous land of tea by West Lake inHangzhou,the Longjing Tea Garden is a vast expanse of tea trees over themountains and plains,presenting a magnificent scene.Strolling in the teagarden,tourists will feel like traveling in a green sea with fresh aer andaroma of earth.They can also learn to pick up tea,experience how local peoplework in the tea garden and learn some knowledge of tea.Certainly,it is the bestplace to taste tea and take a rest:Sitting by a small table in the green teagarden and drinking a cup of Longjing tea,you will immediately feel that youare far away from the turmoil world and return to nature.
West Lake
West Lake is a poem,a natural paintingscroll and a moving story.The appealing tourist attractions raroud WestLake,such as the mist-covered mountains at a distance,the pleasure boats on thelake,a vast expanse of lotus flowers,the Three Pools Mirroring the Moon,redplum blossoms after snow,orioles on the misty willows,the towers and buildingsin the drizzling,and the Broken Bridge that witnessed the love story betweenLady White Snake and a young scholar by the name of Xu Xian,will make everytourist fall in love with Hangzhou.
Lingyin Temple
The Lingyin(Soul,s Retreat)Temple is hiddenamong the green trees beside the Peak That Flew In by West Lake.Constructed in326,the first year of the Xianhe reign of the East Jin Dynasty,the LingyinTemple is one of the central axial line stand the Grand Hall.Heavenly King Halland Bhaisajyaguru Hall.The Grand Hall enshrines a seated statue of Maitreya anda carced camphor statue of Skanda,a guardian god,who is 2.5 m high and wears agold hamlet.
A Brief Introduction of Chinese Food
China has a vast territory and a large number of ethnic groups. Thanks to the great differences in the climate,geographical environment, and historical and cultural development of different regions, various styles of cuisine have been formed, each having its own distinct characteristics. The cooking techniques and different styles of cuisine reflect the quint essence of unique Chinese cooking techniques, and represent the level of Chinese culinary.
China has local cuisine, imperial dishes,dishes of ethnic minorities, Islamic dishes with a strong religious flavor and vegetarian dishes. At the beginning China had only four styles of cuisine.i.e., Sichuan, Shandong, Guangdong and Huaiyang cuisine, which later developed into eight major styles of cuisine, then 10 main styles of cuisine, special styles of dishes of ethnic minorities such as Mongolian dishes, Tibetan dishes,Manchu dishes, Zhuang dishes and so on. Each ethnic minority dishes displays its unique ethnic customs. Dishes in the style of the ancients, includes Dishesof the Confucius Mansion. Tan Family Dishes, and Imitated "Dream of Red Mansions" Dishes, in addition to various kinds of local snacks, such as Beijing, Guangzhou, Jinan and Chengdu snacks. These styles of cuisine reflectChina's rich and colorful catering culture in an all-round way.
Foods prepared by varied places are quite different in tastes, showing strong regional features. The people of northwest China love sour food; those of southwest China are fond of spicy food; and those from south and east China prefer sweet food. The people of north Chinamainly eat cooked wheaten food, such as steamed bread, steamed twisted rolls,pancakes and noodles; and the people of south China take rice as staple food.