Foreign Students from College of Mathematics, Physics and Information Engineering Take An Active Part in the 41th Sports Meeting of ZJNU
The 41th Sports meeting of the Zhejiang Normal University is underway during the October 23 to 24. Track and field games appeared in two different scenery. They are BILOMBA NDOMBA and ERNEST--the foreign students form mathematics and Information Engineering College.
At 9:20 in the morning of October 23, 2015,the 2015 freshmen studentBILOMBA NDOMBA from the Dr congo of the mathematics、physics and Information Engineering College Standing on a runway at the Xintian stadium.At 9:24, the big horn radio began to introduce the players.When heard from the mathematics、physics and Information Engineering contestant BILOMBA NDOMBAon the number one runway, all of the students in the stands are in a mood very excited, cheering and cheering!So as BILOMBA NDOMBA,the fresh man named ERNEST from Burundialsotook part in the 800-meter match.
When the gunfire sounded,they are doing their best to run as well as other athletes.They also worked very hard for the sprint.Their figure is the most beautiful scenery in our eyes, the number of students also cheered them on.
figure1:BILOMBA NDOMBA ready to start
figure 2 :BILOMBA NDOMBA in the game
figure 3 : BILOMBA NDOMBASprint to the finish
figure 4 : ERNEST is starting running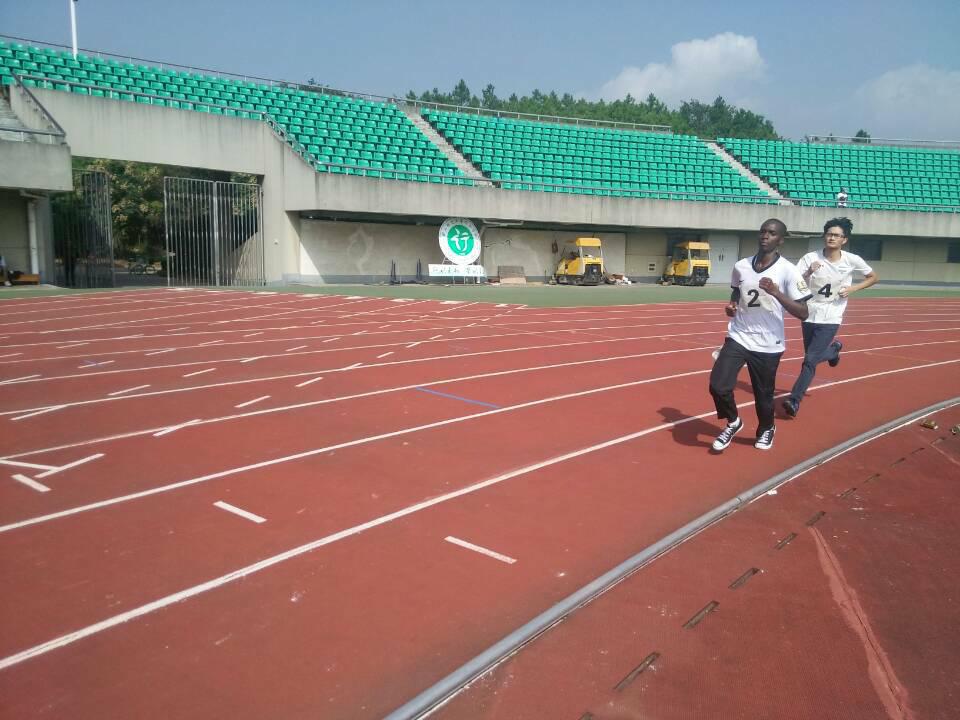 figure 5 :ERNESTStruggled to the game
figure 6:ERNESTtaking a photo with teacher qiu
Although the final scoresare not the best,But they are still the best and one of the most honorable player in the mathematics、physics and Information Engineering College!It is reported that the mathematics、physics and Information Engineering College has always uphold idea that the foreign students and the Chinese students tend to Convergence management.Actively organizing, encouraging and supporting students to participate in university and college activities. Leading foreign students coming into our school's campus cultural activities.Providing a platform for students to display themselves and to understand China.Making foreign students in our school's learning life more colorful!